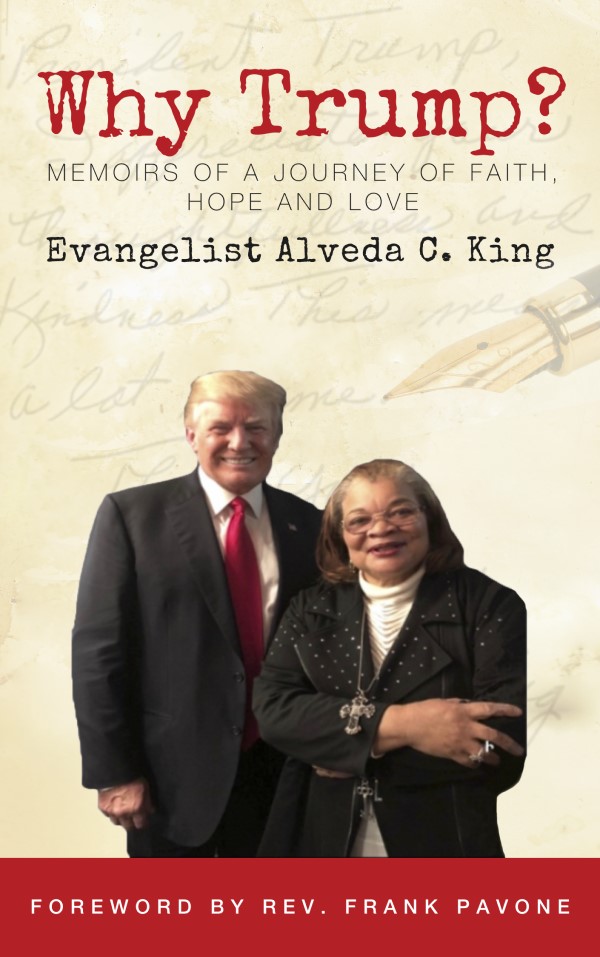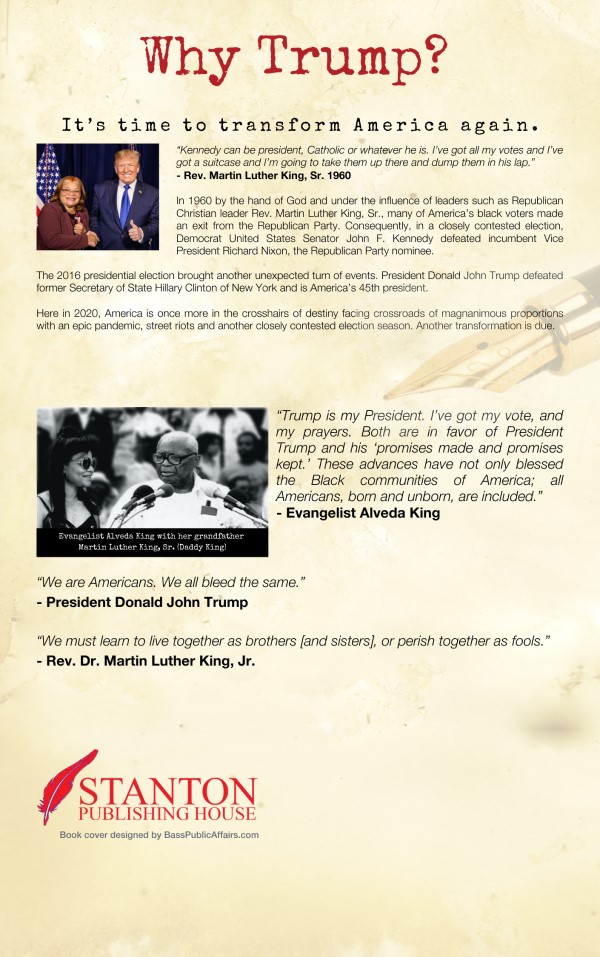 Why Trump Book – Evangelist Alveda C. King / Slide 1
Why Trump Book – Evangelist Alveda C. King – Slide 2
Why Trump? Memoirs of a Journey of Faith, Hope and Love.
~Evangelist Alveda C. King
Order your autographed copy today!
---
Click Here to read what others are saying about "WHY TRUMP".
Read Now
Dr. Boyce Watkins – "22 Reasons The Democratic Party Offends Me As a Black Man" (EXCERPTS)
Kennedy can be my president, Catholic or whatever he is. I've got all my votes and I've got a suitcase and I'm going to take them up there and dump them in his lap.

Rev. Martin Luther King, Sr. 1960
In 1960, by the hand of God and under the influence of leaders such as Republican Christian Leader Rev. Martin Luther King, Sr., many of America's Black voters made an exit from the Republican Party. Consequently, in a closely contested election, Democrat United States Senator John F. Kennedy defeated incumbent Vice President Richard Nixon, the Republican Party nominee.

The 2016 presidential election brought another unexpected turn of events. President Donald Trump defeated former Secretary of State Hillary Clinton of New York and is America's 45th President. Here in 2020, America is once more in the crosshairs of destiny, facing crossroads of magnanimous proportions; with an epic pandemic, street riots, and another closely contested election season. With God's help, is time to transform America, again.
Trump is my President. I've got my vote, and my prayers. Both are in favor of President Trump and his "promises made and promises kept." These advances have not only blessed the Black communities of America; all Americans, born and unborn, are included.

Evangelist Alveda King
We are Americans. We all bleed the same.

President Donald John Trump
We must learn to live together as brothers [and sisters], or perish together as fools.

Rev. Dr. Martin Luther King, Jr.
Building on his record of Promises Made, Promises Kept, President Donald J. Trump has released the Platinum Plan for Black America, which will uplift Black communities across the country through a $500 billion investment. After years of neglect by Democrat politicians, Black Americans have finally found a true advocate in President Trump, who is working tirelessly to deliver greater opportunity, security, prosperity, and fairness to their communities. While Joe Biden takes Black voters for granted – and even questions their blackness if they dare to support conservative ideals – President Trump is working hard to earn the Black vote through… [read more]